The Rock is a newly built retreat designed to accentuate the natural beauty surrounding it.
A modern minimalistic design in black, it is the perfect backdrop to the sparkling blues of the lake and the lush greens of the surrounding forest.
The main floor consists of all the bedrooms with the master and en-suite looking out onto the lake.
The 2nd floor was built to maximize the western exposure and breathtaking lake views.
The kitchen boasts a window back splash and a pocket stove vent to ensure the chef can also take full advantage of the vistas while creating.
Large screen doors throughout.
Creating a seamless indoor / outdoor living experience.
Large Front Deck.
Perfect spot to lounge in full sun and lake breeze during the day.
Evenings are for spectacular sunsets and selfie's.
Back Deck.
The perfect spot to enjoy your cup of coffee in the morning and a shady spot to go to when you've had enough sun on the front deck.
Heated Floors Throughout.
Radiant heat EVERYWHERE. No cold feet ever!.
The House.
4 bdrms (3 Queens 1 Twin)
1 en-suite plus 2 bathrooms
Upper Living Room and Lower Living Room
Fully equipped chef's kitchen
Laundry room.
Durable High Quality Flooring.
So you can spend your time having fun not tiptoeing around the house.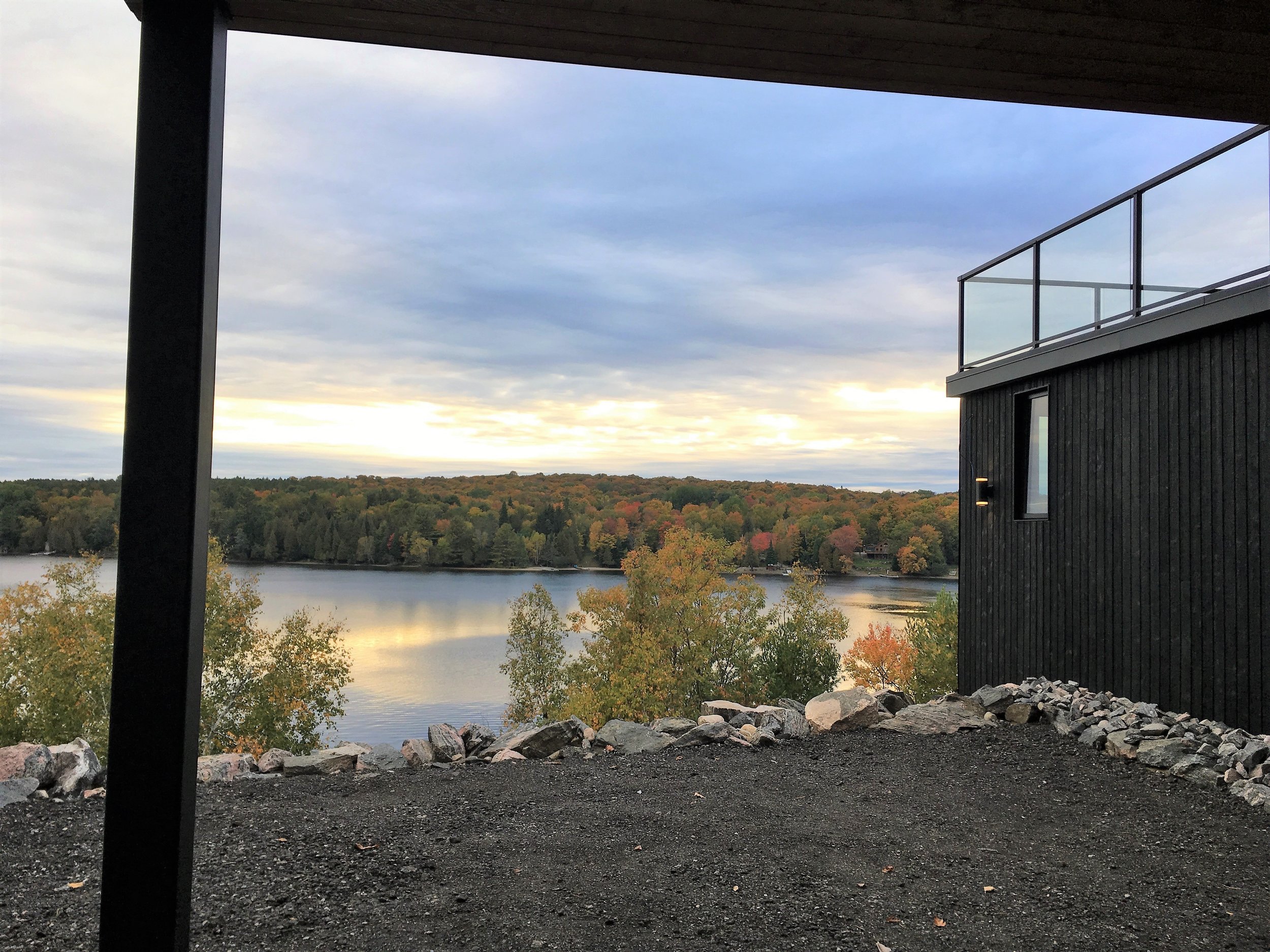 Situated on the historic rock cut (hence the name 'The Rock') of Highway 35, this unique 1 acre property boasts both an upper and lower section to be enjoyed equally.
The Upper Section on top of the rock cut is where the house sits.
The western exposure views of the lake and the constant cool breeze can be enjoyed from many vantage points up here.
There is also a forest of mature Pine and Oak trees that surround the large backyard offering not only extra privacy but the best soundtrack (swaying trees) to any campfire!
The Lower Section (accessible by car or on foot) is the old winding road that was originally Highway 35 before they cut through the rock for the bypass.
This path will take you along 500 feet of pristine Lake Boshkung. Explore the natural shoreline, go for a swim in the sandy shallow water or just go for a walk and enjoy the fresh air and nature at it's best!
Lakefront Retreat Home 'The Rock'.
2000 sq/ft on 2 acres.
Natural Shoreline.
500 plus feet on Lake Boshkung
Great swimming and fishing!
Backyard / Fire Pit.
Large backyard with big sky views and surrounded by mature trees - very private
Location.
3 hrs from Toronto right off Highway 35 (easy access)
40 min. from Muskoka Airport (direct flights to Toronto)
10 minutes from Stanhope Airport (private flights)